Do You Know the Local Code Requirements?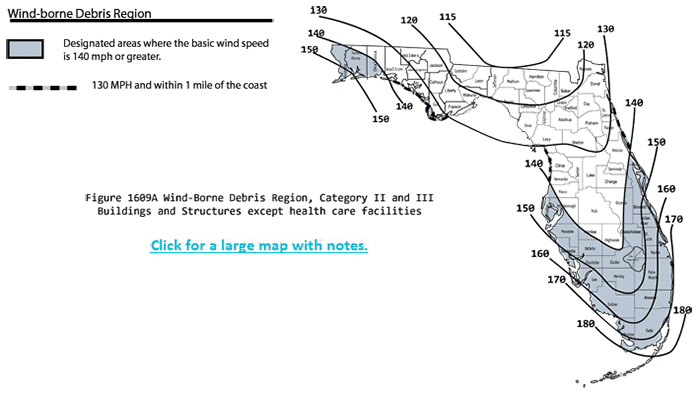 Folkers carries a variety of products designed to meet the varying Florida building codes including windows, doors, shutters and more.
The latest building code and permitting requirements state most of the Gulf Coast counties in Alabama and Florida, fall under the "Wind Borne Debris Zone." In Florida, the law states that if more than 25% of the total glazed area of the home is replaced, the openings must have "Large Missile Level D" impact rated protection for each opening involved. "Openings" are defined as doors and window. "Protection" is defined as either impact windows or hurricane rated shutters. There are some local building departments that will permit the use of plywood if it conforms to the accepted state standards (precut panels with labels, designated plywood thickness and preinstalled mounting hardware that includes a certain fastener size, wall structure embedment and spacing.
In Mobile and Baldwin counties in Alabama, all openings must be protected in Mobile, Gulf Shores, Orange Beach, Foley and Fairhope. In other parts of Baldwin and Mobile counties, the code varies for each municipality. Check with a Folkers' expert on local code requirements.
In addition, the state of Florida has recently implemented new energy efficiency requirements for windows and doors that are much more stringent than previous code editions. All window and/or door replacements must meet a solar heat gain coefficient (SGHC) of 0.25 or less and a U-value of 0.40 or less windows. See below for definitions.
Many aluminum framed replacement windows do not meet the new energy codes whereas Folkers' vinyl windows do.
The folks at Folkers know the code requirements for your area. We will explain permitting rules, manage the permitting process and assist you with the required inspection following installation. With over 40 years of experience, you can trust the folks at Folkers.
Terms you may want to understand:
Here along the Gulf Coast, we face a unique challenge regarding windows and doors. We are faced with severe weather as well as severe temperatures. Those environmental conditions have led states along the Gulf Coast to adopt building codes that are more stringent than other areas. We are faced with not only strength and durability requirements but also energy efficiency requirements. Fortunately, the folks at Folkers know and understand the building codes and provide products designed to meet those stringent codes.