Do You Know The Local Building Code Requirements?
Know The Code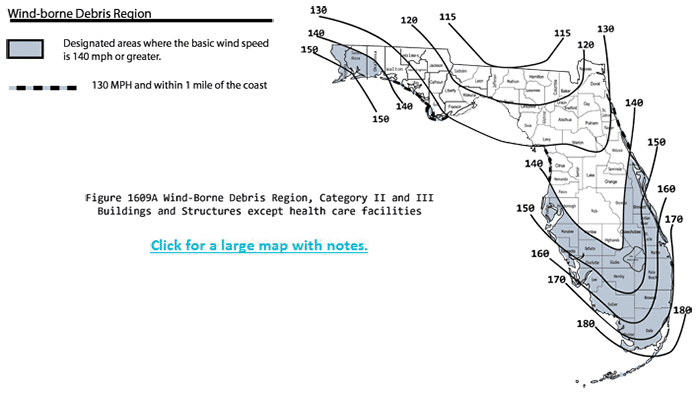 The latest building code and permitting requirements state most of the Gulf Coast counties in Alabama and Florida, fall under the "Wind Borne Debris Zone." In Florida, the law states that if more than 25% of the total glazed area of the home is replaced, the openings must have "Large Missile Level D" impact rated protection for each opening involved. "Openings" are defined as doors and window. "Protection" is defined as either impact windows or hurricane rated shutters. There are some local building departments that will permit the use of plywood if it conforms to the accepted state standards (precut panels with labels, designated plywood thickness and preinstalled mounting hardware that includes a certain fastener size, wall structure embedment and spacing.
In Mobile and Baldwin counties in Alabama, all openings must be protected in Mobile, Gulf Shores, Orange Beach, Foley and Fairhope. In other parts of Baldwin and Mobile counties, the code varies for each municipality. Check with a Folkers' expert on local code requirements.
In addition, the state of Florida has recently implemented new energy efficiency requirements for windows and doors that are much more stringent than previous code editions. All window and/or door replacements must meet a solar heat gain coefficient (SGHC) of 0.25 or less and a U-value of 0.40 or less windows. See below for definitions.
Many aluminum framed replacement windows do not meet the new energy codes whereas Folkers' vinyl windows do.
The folks at Folkers know the code requirements for your area. We will explain permitting rules, manage the permitting process and assist you with the required inspection following installation. With over 40 years of experience, you can trust the folks at Folkers.
Terms You May Want To Understand
Argon Gas
A colorless, odorless and nontoxic gas used to reduce the transfer of heat or cold in windows. When Argon is used to fill in the insulating glass space, it forms an insulating barrier that assists in slowing the transfer of heat or cold.
Design Pressure (DP)
Design Pressure Rating is a term used to identify the structural capacity of a window and/or door system. Essentially Design Pressure represents the wind load the window or door system can withstand. Florida building codes are the most stringent in the country and Folkers products are designed to withstand the high Design Pressure requirements. Florida building codes require a minimum design load and that minimum design will vary with your location, proximity to the coast and whether you are located in a high velocity hurricane zone.
In Alabama, Design Pressure requirements vary by municipality. In Dauphin Island, Gulf Shores and Orange Beach design pressure rules mirror Florida's code requirements. As one moves north away from the coast, Design Pressures requirements change with the distance one moves away from the coast.
High Velocity Hurricane & Wind Zones
Building codes require buildings to withstand wind and hurricane forces. For example, Mobile is located in a 130 MPH wind zone, Pensacola is located in the 140 MPH zone and parts of Pensacola Beach are located in the 150 MPH zone, as a few examples.
Hurricane Shutters
Shutters that are designed to meet the Florida and Alabama building codes and protect property from hurricane forces.
Impact Resistant Windows & Doors
Windows and doors that are designed to meet the Florida and Alabama building codes and protect property from hurricane forces. Impact windows and doors can also be used for security, energy efficiency and sound attenuation.
Low-E Glass
Glass coatings designed to minimize the amount of ultraviolet and infrared light that can pass through glass without compromising the amount of visible light that is transmitted. The ability of a material to radiate energy is known as emissivity. Thus the lower the Low-E, the better.
Missile Level E
Glass products designed to withstand an 8 foot 2×4 board being shot at the glass at 55 MPH.
Multi-Cavity Construction
Chambers of insulating air help reduce the transfer of heat into the home while multiple window framing walls provide superior strength and rigidity.
Solar Heat Gain Coefficient (SHGC)
SHGC is expressed as a number between 0 and 1. The lower a window's solar heat gain coefficient, the less solar heat it transmits. The nationally recognized rating method by the National Fenestration Rating Council (NFRC) is for the whole window, including the effects of the frame.
U-Value
A measure of the heat transmission through a building part (as a wall or window) or a given thickness of a material (as insulation) with lower numbers indicating better insulating properties.
What Have We Been Doing Lately?
Recent Check-Ins & Reviews
Measuring for CWS impact single hung windows in gulf breeze Florida
White vinyl oergan no grid windows for this customer
New white vinyl low E argon no grid windows for this customer using the my safe Florida home Grant
Impact rated doors for this customer in a choice of and a choice of designs of glass
Measuring for a impact French door In oriel beach Florida
Measuring for impact shwinco single hung windows in seascape Miramar beach Florida
White vinyl low E argon impact rated windows for this customer with screens
White vinyl low E argon no grid Windows
White vinyl low E argon no grid windows for this customer and impact rated
Accordion shutters and aluminum storm pans for Hurricane protection for this home
Measuring for impact windows
Measuring for impact Viwinco single hung windows,sliding glass doors and hurricane screens in pace Florida
Tell us how we can help and we'll get back to you as soon as possible.
If you have any questions, just call us
and one our team members will help you.
We Are Open 8am – 5pm
Monday -Friday