Sliding Doors
Sliding doors are generally manufactured in either wood, vinyl, or fiberglass. They slide open horizontally and one of their major assets is an increase in natural light allowed into the home. Sliding doors can be outfitted with screens to also increase the flow of air into your home. Another benefit of sliding doors is that they do not open into a room – allowing increased decorating options while maximizing usable space.
Sliding doors are sold depending on how many panels you desire. The base type of this product is a 2-panel sliding door which features the door, and a stationary glass panel next to the door. This 2-panel sliding door design is optimal on walls with a small area available or in home designs where you want to accent the exterior more such as with a brick home.
4-panel sliding doors feature two doors as well as two glass panels on each side of the door. This 4-panel sliding door design first and foremost allows more natural light inside due to the added glass in the design. Another thing that the 4-panel design does is allow both doors to slide open, creating a huge walkway which is great for, among other things, moving items in and out of your home.
Finally there is also a 3-panel sliding door also exists. You an use this 3-panel sliding door for more custom installations. The door part of the product can be installed in any of the 3 panels so that you can choose to enter and exit on the left, middle, or right. Telescoping 3-panel doors can also be installed so that entry is double wide. Sliding doors are perfect for when a bit more natural light is wanted (as well as opening options) but the room available may not be there for 4-panel sliding doors.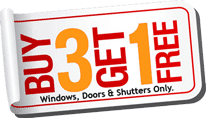 Exclusive 4-Year Labor Support
Custom measured for every application
Everything we sell, we install (no subcontractors)
Our custom-designed sliding glass doors