French Doors
French Doors are very common for the interior of your home. They may not provide the exterior curb appeal that entry way doors or sliding doors do but the value added to the interior of your home is just as magnificent. French doors are most often found in the entry way between a kitchen and dining room or dining room and living room. These doors are synonymous with having glass pains through their length. They are a great feature for providing an open concept interior, but at the same time having the ability to close the area off for privacy.
Of course French Doors don't have to be solely interior features, they also aren't necessarily always double door models either. Folkers offers a supply of Single French Doors if that's more of the style that you prefer. They often have the second pane to increase the aesthetics and natural light, it's just that only one of the panes opens and closes. These doors are frequently used for access to the exterior of your home, often to a deck or patio.
Double French Doors are the traditional products that most homeowners are probably accustomed to. The methodology of these kinds of doors is typically focused on using light construction and glass panes extending through most of the length. These doors are primarily aesthetic upgrades, but they also are very comforting for allowing in natural light and warmth due to all the glass. They're connecting features – they link two rooms together when opened, but can easily be closed off two. In fact, the installation of French Doors can change the entire function of a room from a dining room, den, or even a bedroom or home office.
All French Doors add considerable value to your home. They improve your quality of living and energy efficiency now – but also become more appealing to future buyers down the line.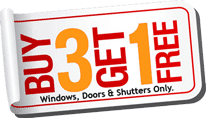 Exclusive 4-Year Labor Support
Custom measured for every application
Everything we sell, we install (no subcontractors)