8 Warning Signs That You Need a New Front Door
Here are eight questions you should ask when considering a new front door for your home.
1. What is the age of your doors?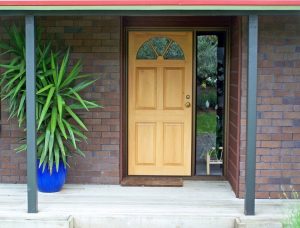 This really is the first question to ask yourself when considering new doors.  If your home has the original builder grade doors and your home is over 8 years old, then you are a candidate for replacements.
Builder grade doors is an industry term that refers to a grade of doors used by builders during new construction of homes. Builder grade doors are actually low-quality, stripped down products. The term comes from the fact that many builders and developers purchase a low-end door product. They use these in new developments as a way to save themselves thousands of dollars. Most people don't inspect the door quality when buying and/or building a new home but rather folks will view the aesthetics of the home… the look of the door, the counter tops, the bathroom, the kitchen, the exterior, molding and other eye catching characteristics.
The big loser, of course, is the homeowner who may have to deal with poorly made doors, flimsy locks and hinges, warped frames, poor quality glass and gas fills, clunky opening and closing or any of the many other issues that may occur within a few years of moving into a brand new home.
Older doors may also consist of single panes of glass or double panes that do not contain gas or coatings. They may have a fill material that is energy inefficient or not built very robustly. Old doors may be made of wood that is now rotting or deteriorating. Steel door frames could be rusting due to poor rust protection applications.
2. Are your doors sticky and difficult to operate?
Over time, expansion and contraction causes doors to absorb and release moisture, which causes them to bend and warp out of shape. Living on the Gulf Coast adds another dimension to the expansion and contraction in that we experience a large amount of rainfall, high temperatures with high humidity, direct sun light and salt air.  This expansion and contraction of framing materials contributes to door leaks, water and mold damage to walls, rot or rusting and may serve as an entry point for insects into your home.
Home safety can be jeopardized as well. The ease of kicking in a door or busting through a poor locking system or door jamb can lead to easy break-ins. A new front door should be easy to open, close lock and unlock for everyone in the home, including the young and elderly.
3. Is your home drafty with temperature variations from room to room?
Is your home uncomfortable during the summer and/or winter? Can you see daylight around the door frames? Can you actually feel a draft coming from the doors? Temperature variations from room to room is another indicator that it is time for a new front door. In some cases, the draft you feel isn't actually from a leak. Rather, it will be from convection, the movement of air due temperature variations. For example, on a hot summer day, the heat energy of warmer outside air can exploit the panes of glass or the door construction material that have a low heat resistance (R-value) allowing heat to enter the room.
These temperature variations are due to single and/or double pane pieces of glass that are allowing the hot or cold from the outside to enter the through the glass or frames.  Air leaks and poorly insulated doors are quite common and can cost the typical homeowner as much as 25 percent in cooling and heating expenses.
If you are suspicious that your hard-earned energy dollars are going out the front door, you are probably right.
4. Are you wasting money on energy bills?
Even if your doors are properly sealed and are relatively new, you may be wasting hard earned money on energy bills due to poor door construction. Today's doors contain a combination of characteristics designed to make them much more energy efficient than in the past.  Frame materials can make a big difference in energy use. Today's glass inserts are more efficient than the inserts of the past.  Modern changes to the glass also contribute to increased efficiency. Gas can be installed between the panes of glass and coatings can be applied to the glass. This will lower the Solar Heat Gain Coefficient (SGHC which is the measurement of solar heat allowed through a window) and U value (measure of how much heat is lost through a given thickness of a particular material).
The SGHC is affected by the type of glass as well as the type of frame system (aluminum, wood or vinyl) so the entire new front door system can contribute to energy savings.
5. Can you hear excessive noise from the outside?
Today's doors can be built with impact resistant glass (hurricane resistant glass inserts) as well as various coatings and different frame materials. With these designs, the homeowner not only gains the benefits of security and energy efficiency but a side benefit has been realized – noise reduction.
The noise reduction properties of hurricane doors can be attributed to the overall thickness of the pieces of glass. The width usually ranges from 7/16" to 9/16". In addition, the material of the door itself is designed to provide storm protection which has a side benefit of noise reduction. In fact, outside noise can be reduced up to 40% with impact resistant doors.
6. Does your home have a problem with mold and mildew?
Leaky doors make it difficult to manage water and humidity inside the home, especially if water and/or humid air is leaking inside. Humidity problems are often accompanied by mold and mildew problems.  Along the Gulf Coast, humidity and water is a year-round issue. As long as there is air and water infiltration around doors, there is greater potential for issues. Mold and mildew problems, discomforts, health concerns and energy losses – just to name a few.
7. Are any of your furnishings, drapes, walls, rugs, carpet or valuables faded from the sun?
Damaging effects from ultra-violet (UV) rays of the sun have damaging effects on home structures, furnishings and possessions.  Older door glass inserts were not manufactured with UV-blocking technologies.  For example, typical glass inserts can block as much as 95 percent of UV rays.
Along the Gulf Coast, UV protection has benefits in addition to protecting your living spaces and possessions from sun-fading damage.  Fewer UV rays into the home means less heat gain during hot summer weather. Replacement doors with UV-blocking technology are typically well insulated, offering a nice R-value, which hinders heat loss during the winter.
8. Are your glass inserts often foggy or hard to clean?
Sometimes older doors with glass inserts suffer seal failure and/or water damage from condensation permeating the failed. Seal failures make glass look fogged, dirty or the glass appears to have condensation between the panes. You'll find the "dirty" glass impossible to clean. Plus the condensation build up is a sign of leaks and inefficiency.
Folkers Window Company specializes in window and door replacement for homes throughout the Gulf Coast area.  With over 350 years of combined experience in window, door, and siding replacement and 43 years of serving the Gulf Coast, our team can recommend the right products for your home and budget.
Call the fine folks at Folkers for a free estimate on a new front door – 850-477-1772 or 251-943-6522.
See our award winning ratings on Angie's List.